Everytime when we get customers' drawings or physical sample for inquiry and sampling. We would do evaluation by our professional experience here and feedback to our customer with better proposal for approval.
Here is one Case for sample as below:
Usually by three steps:
1) Point out the problem with technical data
2) Describe the difficulty or potentional defect by improper design
3) Solution and suggestion for improve
Our target is to help customers to process their required Wire Harness with goold quality. By fool-proofing in advance before mass production.
Data analysis depending on spec.
(1) Alpha wire insulation OD: 0.035"
(2) HIROSE( DF50A-11S-1C & DF50-2830SCFA)

1) From above spec, we can know HRS terminal DF50-2830SCFA is just suitable for wire OD: 0.0315"~0.0354"
2) But now the used alpha cable insulation is 0.035", which is very close to max 0.0354".

3) On the other hand, size 0.035" for alpha wire is just standard data from spec. It has tolerance too. The atucal measured size is 0.037", 0.038" which is more than the max 0.0354" for HRS terminal DF50-2830SCFA.

(Pls refer below pic 1, 2 for wire insulation measured size)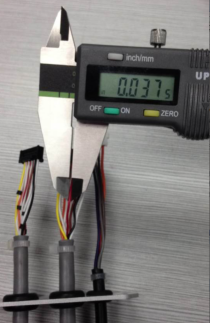 pic.1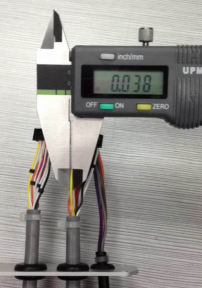 pic.2

Results: Depending on above analysis, present wire insulation size is not suitable with HRS terminal.

Difficulty during assembly & Potentional defect
As wire OD is bigger than the max 0.0354" for HRS terminal DF50-2830SCFA.

During assembling, only the first pin is very easy to be assembled to HRS connector. But from the second pins to pin 11 can only be half-insertion. So we have to use the sharp awl to help push the terminal to connector completely. It affects the productivity badly.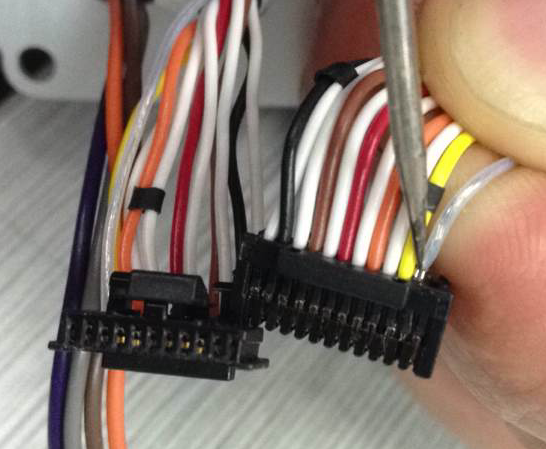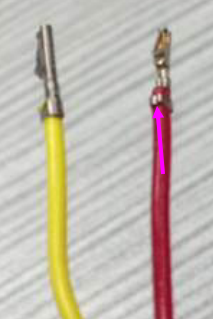 Above is Pressure direction and point
Potential defect would be caused by this kind of assembly method:

1) As terminal is too small, only sharp awl is workable to push terminal in connector. However it's very easy to cause terminal deformation or wire hurt (copper exposed) probelm. The damage can cause serious materials wastage problem too. Also Some small damage may not be found 100% promptly during assembling and inspection
2) As wire is too big to be placed in the HRS connector, if we force to push terminal in, all terminal would be inclinced to one side. Also the thin gap between neighbouring terminals may be broken a little. In that case, some intermittently short-circuit problem may not be found during testing.

Suggestion

1) Consult Alpha for simialr cable spec., still keep present wire gauge( 28AWG). Only make sure the insulation size max 0.035", (within φ 0.0315" to 0.0354") the smaller, the better.

2) To consult Chinese local supplier to make EQUIVALENT Alpha cable, the requirement FT4 need to re-confirm with suppleir first, once ok, we'll offer cable spec for approval.